Spot Welding Supplies - Block Weld Die Electrodes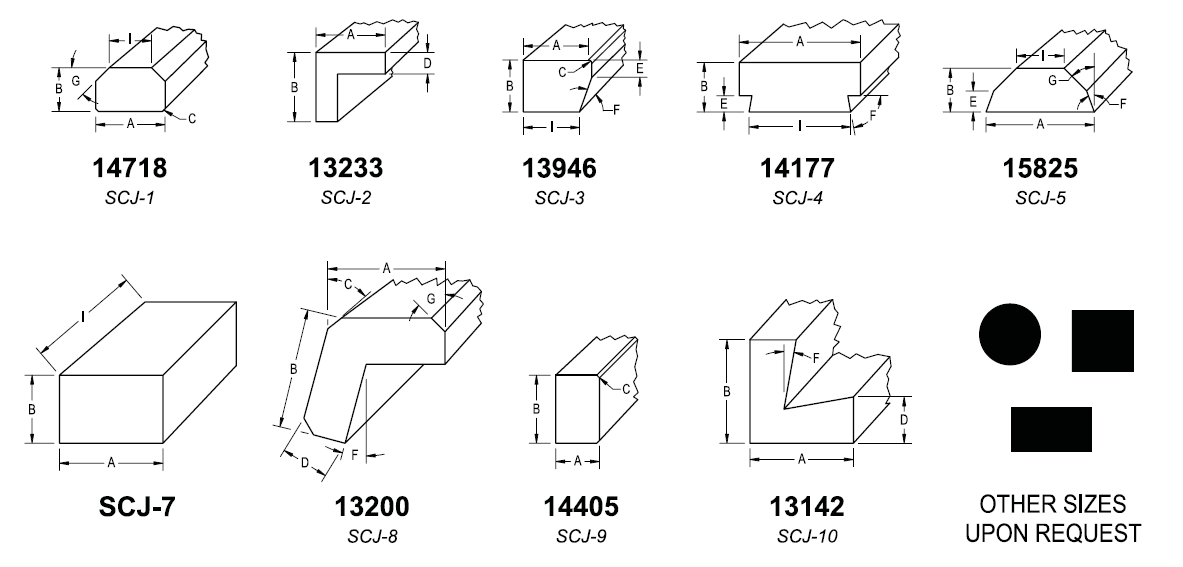 Automatic Wire Mesh and Mat Welders require special hard alloy, high conductivity weld dies to provide maximum performance, long life and reduced downtime.
ELIMINATE COSTLY MACHINING of rectangular and square bar stock. Spotwelding Consultants can now supply factory replacement copper alloy profiles ready for use or subsequent machining. These profiles offer the advantages of Class 3 Alloys (Cu Co Ni Be) used by major OEM Mesh and Mat Welder manufacturers worldwide. The long life copper alloy can minimize downtime for additional cost reduction.
These replacement weld dies, shaped as shown are stocked at Spotwelding Consultants. Other shapes are available upon request. Consult Spotwelding Consultants for price and availability for these and all your resistance welding needs.
DIE PART No.
A
WIDTH
B
HEIGHT
C
CHAMFER
D
THICKNESS
E
SHOULDER
F
ANGLE
G
45° ANGLE
H
kg/m
I
14718
SCJ-1
25.4
16
1 X 45°
7 X 45°
3.12
15.44
13233
SCJ-2
25.4
25.4
8
3.0
13946
SCJ-3
25.4
19.05
1 X 45°
6.35
20°
3.75
19.8
14177
SCJ-4
44.45
18
6
70°
6.65
37.28
15825
SCJ-5
39.7
16
8
20°
10.5 X 45°
4.46
17.46
SCJ-7

40
25
8.46
38
13200
SCJ-8
43.05
43.05
52°30'
17
15°
5 X 45°
10.7
14405
SCJ-9
16
25
1 X 45°
3.56
13142
SCJ-10
38
38
17
10°
7.36