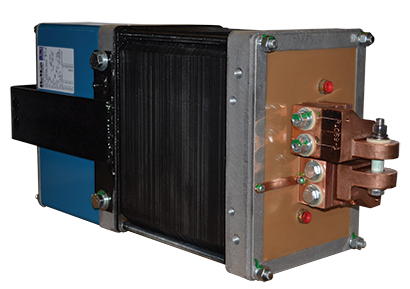 RoMan Portable Gun Type Transformers
The Portable Gun Transformer can be adapted to your specific application. It is designed with secondary connections to accept low reactance (kickless) welding cables, integral hangers to accommodate overhead mounting, multiple selections for secondary voltages, and fully encapsulated to protect against contaminants.
Product Overview
Applications: Any welding installations using portable welding guns, or remote robot guns.
Features: Secondary connections designed to accept low reactance dual conductor (kickless) welding cables. Available in wound and stacked core models. Integral hanger accommodates overhead mounting.
Ratings: 50 KVA to 200 KVA (rated at 50% duty cycle)
Portable Gun Type Transformer Section
Bulletin G-1 - Frame Corss Section 9 1/2" X 13 3/8"
Bulletin G-2 - Frame Cross Section 12 1/2" X 13 3/8"