Equipment - Portable Spotweld Tester / Pull Tester
Model PT-10

The large, easy to read, F1-80 digital force indicator displays current and peak forces in pounds, newtons or kilograms. The high capacity model PT-10 can test samples up to 5,000lb and is light enough to easily transport.
PT-10 Portable Spot Weld Tester Features
It is light and small enough to easily transport between stations.
It is 18.5 inches wide, 4 inches deep and 7 inches high.
Available in a 5000 pound test load capacity.
Both standard and optional jaw grips are
coarsely serrated to reduce slippage.
Solid, heavy steel plate construction throughout.
Designed for long term maintenance free operation.
Warranted against manufacturing defects for a full two years.
FI-521 LED Load Cell Indicator
3 Cell Memory
80 Hz Peak Capture Rate
IP65
2 RS-232 Serial Ports
5 Point Curve Linearization for each load cell
Units of Measure:kgf, lbf, Newton
Models PT-1, PT-2, PT-3, PTLC-5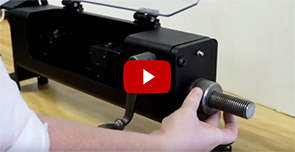 The PT Portable Tensile Tester is built for convenience and accuracy, making it easy to test anything from wire and strip steel to bolts and spot welds. It has a rugged, cast iron, exterior with a standard capacity of up to an eighth inch thick and six inches long. Also, the PT can be modied to meet your specications should you require a larger capacity. Simply indicate your size requirements when ordering. For Tensile tests that are portable and dependable, consider the PT Portable Tensile Tester for your shop.
Special Features
Precision Worm-Drive Mechanism
Oil-Driven Pressure Gauge or Digital
Customizable to your Specifications
Rugged Cast-Iron Shell
Certified and Ready to Use
Pull Testers

PT-1

PT-2

PT-3

PTLC-5

Load Capacity
600
2,000
4,000
5,000
Display
Pressure Gauge
Digital
Maximum Screw Travel
2 in.
2 in.
2 in.
2 in.
Specimen Length
6"
6"
6"
6"
Dimensions

7" x 21" x 6" / 38 lbs.

Accessories

Carrying Case, Manual

Download PT Brochure