Equipment - Tuffaloy Weld Force Gauges
High-Accuracy Weld Force Gauges Available from Tuffaloy
We offer one of the broadest product lines available today.
Tuffaloy supplies a broad range of weld force gauges, available with accuracies from 0.5% for Digital-Electronic gauges; to 2% accuracy for the Digital-Hydraulic which has a digital output driven by hydraulics; to our Standard Hydraulic models with 2%-3% accuracy. All are available in English and metric readouts.
Our Digital-Electronic gauge supplies the highest accuracy (0.5% for 95% of the gauges range). The gauge has large LCD readouts with peak-hold capabilities. All functions are electronic which prevents variations caused by flexing.

The Digital-Hydraulic delivers better accuracy than standard hydraulic gauges but at a lower price than all-digital models. The unit of measure is field selectable between pounds, kilograms and newtons. The peak-hold feature allows for reading variable forces, which are common in resistance welding machinery. Gauges maintain an accuracy of 2% for 30% to 90% of the gauge's range.

Tuffaloy's Standard Hydraulic gauges are the low cost method for obtaining general force measurements. These gauges are available in a standard block style, with extensions. Sizes range from 600 lb up to 10 tons with accuracy of 2% at the mean and 3% outside of mean for 70% of the gauge's range.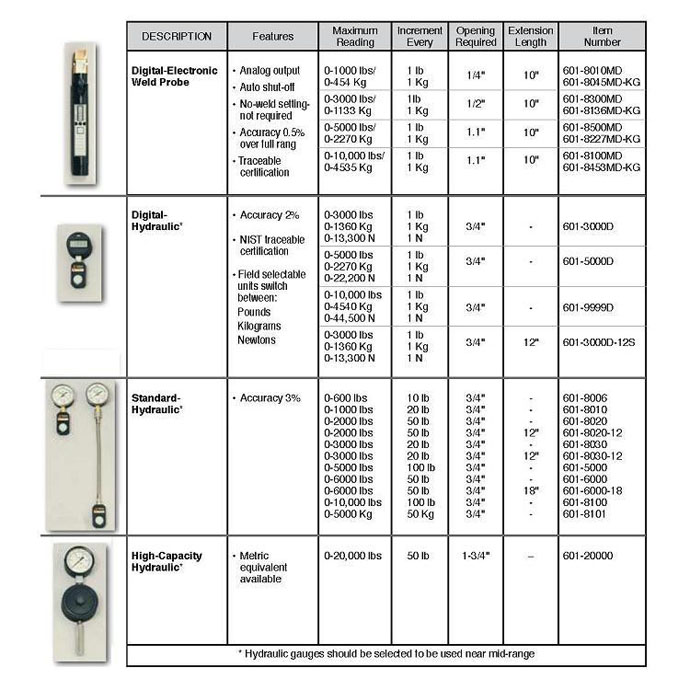 PROTECTIVE GAGE BOX AVAILABLE FOR STANDARD AND DIGITAL HYDRAULIC GAGES FROM 10,000 LBS DOWN, ITEM NO. 601-8019