Dynamic CD Spot Welders
D-CD320 Dynamic CD Spot Welders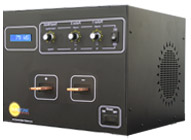 The D-CD320 has been designed for maximum versatility and productivity The D-CD320 offers both DC and CD waveforms. The DC mode is ideal for thermocompression bonding applications - especially when welding magnet wire or enamel coated wires. Weld output can be adjusted up to 12V or as low as 0.2V, with a pulse width that can be adjusted from 500ms down to 0.5ms.
In addition to the DC mode, the D-CD320 can be used as a normal CD welder for a variety of resistance welding applications. The CD mode offers a smooth weld energy discharge curve that ensures strong weld nuggets and smooth weld surface formation. Total energy ranges from 320 watt-seconds down to 0.1 watt-seconds.
Both weld modes offer dual pulse welding capabilities. The dual pulse function of these welders offer some key benefits for many applications. Pulse 1 can be used to melt away wire enamel coatings or to preheat a weld spot - thus cleaning off contaminates from the part surfaces. In either application, pulse 1 helps prepare the pieces and facilitate the weld process to help improve the overall welding process and nugget formation.
Depending on the needs of the particular application, Sunstone Engineering offers a variety of weld heads and micro-force weld heads that can be used with the D-CD320. Please Contact Us to learn what system recommendations we have to offer for your particular application.
D-CD320 Spot Welder Features
Two Welding Technologies in One Welder
DC and CD Waveforms
Single or Dual Pulse Operation
Fine Control of Low Energies
Typical D-CD320 Welding Applications
Thermocompression Bonding
Microjoining
Magnet Wire Welding
Welding Enamel Coated Wires
Wire to Chip Welding
Reflow Soldering
Fire Wire and Ribbon Welding