Resistance Soldering > Little Dandy Pencil-Style Soldering Irons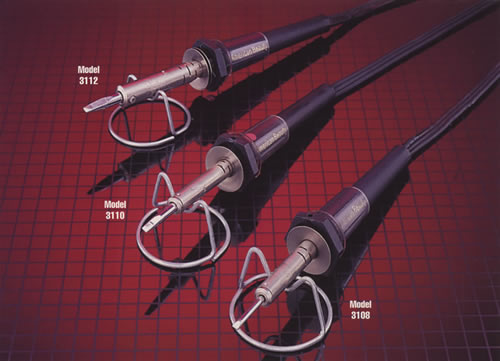 These Pencil-Style Soldering Irons Define Quality!
Designed and built to give top performance under the most demanding production line conditions and to withstand rugged usage in all maintenance and repair operations. Plug-type tip is seated deep in element for quick heat transfer. Modular design provides for easy maintenance. Please take a moment to examine our Model V3600 Voltage Control Station and all of the advantages it brings to your operation.
Features & Benefits:

Ni-Chrome Wound Heating Element - Proven industry's most reliable heating element.
Paragon Iron-Clad Tips - Outlasts ordinary tips many times over!
Iron Uses Plug-Type Tips - Superior heat transfer. Minimizes maintenance.
Intricate Thermal Management Design - Baffles deflect heat from handle.
Air-Cooled Finger Grip - Improves operator comfort; pencil-style gives precise control.
Modular Construction - Easy replacement of any part.
Model 3108 - Little Dandy Soldering Irons

Ideal for soldering miniature and small electronic connections, printed circuit board work and integrated circuits.

Available in 110/120V only. These irons meet or exceed UL/CSA certification requirements; special markings available upon request; additional terms may apply.

MODEL NO.
WATTAGE (SPECIFY)
ELEMENT NO.
MAX. TIP TEMP.
OVERALL LENGTH
STD. TIP NO.
TIP SHANK DIA.
TIP LENGTH
PROD. WEIGHT
SHPG. WEIGHT
3108
20 Watts
9014
805°F
(429°C)
6½"
(16.51 cm)
501
1/8"
(3.18 mm)
2¼"
(5.72 cm)

2 oz.
(57.6 g)

1/2 LB
(226.7 g)
3108
25 Watts
9014
900°F
(482°C)
6½"
(16.51 cm)
501
1/8"
(3.18 mm)
2¼"
(5.72 cm)
2 oz.
(57.6 g)
1/2 LB
(226.7 g)
3108
30 Watts
9014
970°F
(521°C)
6½"
(16.51 cm)
501
1/8"
(3.18 mm)
2¼"
(5.72 cm)
2 oz.
(57.6 g)
1/2 LB
(226.7 g)

Model 3110 - Little Dandy Soldering Irons

Perfect for soldering small to medium electronic and electrical connections.

Available in 110/120V only. These irons meet or exceed UL/CSA certification requirements; special markings available upon request; additional terms may apply.

MODEL NO.
WATTAGE (SPECIFY)
ELEMENT NO.
MAX. TIP TEMP.
OVERALL LENGTH
STD. TIP NO.
TIP SHANK DIA.
TIP LENGTH
PROD. WEIGHT
SHPG. WEIGHT
3110
20 Watts
9010
835°F
(446°C)
6½"
(16.51 cm)
618
3/16"
(4.72 mm)
2¼"
(5.72 cm)

3 oz.
(85.05 g)

1/2 LB
(226.7 g)
3110
25 Watts
9010
890°F
(477°C)
6½"
(16.51 cm)
618
3/16"
(4.72 mm)
2¼"
(5.72 cm)
3 oz.
(85.05 g)
1/2 LB
(226.7 g)
3110
30 Watts
9010
940°F
(504°C)
6½"
(16.51 cm)
618
3/16"
(4.72 mm)
2¼"
(5.72 cm)
3 oz.
(85.05 g)
1/2 LB
(226.7 g)

Model 3112 - Little Dandy Soldering Irons

The right soldering iron for soldering electrical and electronic connections such as lugs and posts. Enough to heat for light to intermediate sheet metal and leaded glasswork.

110/120V and 220/240V versions available. (Unless otherwise specified, customer will receive 110/120V version.) These irons meet or exceed UL/CSA certification requirements; special markings available upon request; additional terms may apply.

MODEL NO.
WATTAGE (SPECIFY)
ELEMENT NO.
MAX. TIP TEMP.
OVERALL LENGTH
STD. TIP NO.
TIP SHANK DIA.
TIP LENGTH
PROD. WEIGHT
SHPG. WEIGHT
3112
40 Watts
9012
950°F
(510°C)
7¾"
(19.69 cm)
720
1/4"
(6.35 mm)
2¼"
(5.72 cm)

4½ oz.
(127.6 g)

1/2 LB
(226.7 g)
3112
50 Watts
9012
1050F
(566°C)
7¾"
(19.69 cm)
720
1/4"
(6.35 mm)
2¼"
(5.72 cm)
4½ oz.
(127.6 g)
1/2 LB
(226.7 g)
3112
60 Watts
9012
1130°F
(610°C)
7¾"
(19.69 cm)
720
1/4"
(6.35 mm)
2¼"
(5.72 cm)
4½ oz.
(127.6 g)
1/2 LB
(226.7 g)