RoMan Transgun/Robot Type Transformers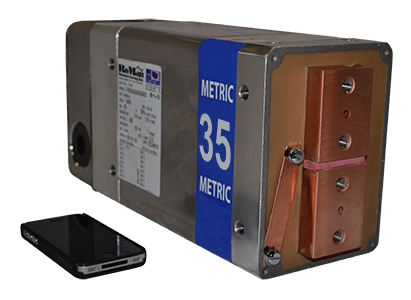 RoMan Machine Type Transformers
The compact and lightweight design of AC Transgun Type Transformers make them ideal for robotic welding and many fixture spot welding applications.
The AC Transgun Type Transformers can be adapted to your needs and applications. Designed for close coupled mounting in welding guns, standard features include flat secondary pads, over-temperature thermoswitches, and fully encapsulated secondaries to protect against contaminants..
Product Overview
Applications: Resistance welding transguns for robots or multi-spot fixtures.
Features: Compact, lightweight design is suitable for close coupled welding gun mounting. Available with single secondary voltage, or variable secondary voltage range with tap switch.
Ratings: 35 KVA to 136 KVA (rated at 50% duty cycle)
Transgun/Robot Type Transformer Section
Bulletin T-1 - Frame Cross Section 4 1/4" X 6 3/4"
Bulletin T-2 & T-3 - Frame Cross Section 5" X 6 3/4"
Bulletin T-4 - Frame Cross Section 5 1/2" X 6 3/4"
Bulletin T-5 - Frame Cross Section 6" X 6 3/4"